11 tags
See DiCaprio and Eastwood at work making 'J....
Here is some on-set footage that Warners Bros. has made available that shows Leonardo DiCaprio, Clint Eastwood, Naomi Watts and Arnie Hammer on the set, hard at work making J. Edgar. Eastwood's drama about the powerful, long time FBI director had its world premiere days ago at the AFI Fest, It opens in limited release on Wednesday and goes wide Friday. Because it's Eastwood, and...
9 tags
'Mission: Impossible - Ghost Protocol' movie...
Put aside the annoying editing of this trailer, with all of its short cuts and incessant blackouts, and the upcoming Mission: Impossible - Ghost Protocol looks pretty exciting. Tom Cruise returns as Ethan Hunt in this latest installment in the Mission: Impossible franchise. Mission: Impossible - Ghost Protocol opens Dec. 21. The movie also stars Jeremy Renner, Simon Pegg, Paula Patton and Josh...
6 tags
Pedro Almodovar's 'The Skin I Live In' photo...
Pedro Almodovar's The Skin I Live In stars Antonio Banderas as a plastic surgeon who, after his wife is burned in a car crash, starts to work creating a new type of skin that can shield against every assault. With a faithful accomplice, he sets out looking for human guinea pigs. Here is a gallery of photographs from the movie.
9 tags
'In Time' movie trailer
Justin Timberlake, Amanda Seyfried and Cilian Murphy star in In Time, a futuristic thriller in which time is, literally, money. The movie is set in a time where aging stops at 25. The only way to stay alive is to earn, steal, borrow or inherit more time. Timberlake plays Will Salas, who comes by a windfall of time that gives him access to a world of wealth. He combines forces with a young...
10 tags
Director Craig Brewer discusses the new...
Craig Brewer (Hustle & Flow, Black Snake Moan) discusses why he decided to remake Footloose and talks about the hunt for his new stars in this video interview feature. He also talks about how he felt when, as a child, he saw Kevin Bacon in the original Footloose. The new movie, which opens Friday, stars Kenny Wormald, Julianne Hough, Andie MacDowell, Dennis Quaid and Miles Teller. Plot...
10 tags
Watch
The Avengers new movie trailer Here is the new trailer for Marvel's The Avengers, one of next year's big superhero movies. The Avengers opens in theaters May 4. Most of Marvel's big superhero movies up until now have been origin stories, with Nick Fury (Samuel L. Jackson) popping up in the end to recruit the newly minted superhero for his secret organization. Now it turns out...
7 tags
Watch
The Thing behind-the-scenes video feature The Thing, which opens Oct. 14, involves the same setting and shape-shifting alien menace as John Carpenter's 1982 classic horror film of the same name, but it isn't a remake. Instead, the new movie is a prequel to the 1982 film, which starred Kurt Russell as one of a group of researchers who encounter the alien in the Antarctic wastes. The...
12 tags
Watch
The Girl With The Dragon Tattoo trailer After viewing this trailer for David Fincher's upcoming movie The Girl With The Dragon Tattoo, I can't say that I'm convinced that remaking the Swedish hit is a good idea. An English-language remake of the trilogy, of course, was inevitable. The Stieg Larsen novels on which the three Swedish movies were based - the Millenium trilogy - were...
8 tags
Watch
Ides of March review George Clooney's support of progressive and humanitarian causes is well-known, so we might expect any movie about politics that comes from him during the thick of a contentious presidential campaign to carry a lot of partisan baggage. But if we expected Clooney's Ides of March to be an anti-Republican broadside, it can only be because we haven't been paying...
3 tags
Watch
Real Steel movie trailer I haven't seen Real Steel but I hate it already, just from the trailer. I hate the little kid. I hate the robots. I hate the precious camera angles and too-perfect lighting. I hate the cute way Hugh Jackman lifts his eyebrows after mouthing a glib suitable-for-network-TV comeback to a similarly TV-quality line. I hate pretty much everything represented by this...
10 tags
Watch
Jessica Chastain discusses Terrence Malick and The Tree of Life This has been a big year for Jessica Chastain. Most of us hadn't heard of her when Terrence Malick picked the lithe, red-haired beauty to play the role of Brad Pitt's wife in The Tree of Life, a stunningly beautiful and ambitious film that, in the current edit, falls somewhere short of greatness. But Chastain also has...
5 tags
Watch
The new 3D version of Lion King continues its strong box office run though preliminary Friday figures show that Moneyball and Dolphin Tale are giving it a run for its money. Will it dominate for a third straight week? We'll have to wait for final weekend figures to see. In the meantime, here is a video feature about the music of the Lion King.
5 tags
Real Oakland A's former manager doesn't care much...
Art Howe, the former manager of the Oakland A's, is portrayed in Moneyball by Philip Seymour Hoffman who is a little "on the heavy side," says Howe. That's only one of Howe's complaints about the movie, which deals with the A's 2002 season, when the general manager, played in the movie by Brad Pitt, used the team to try to reinvent the game of baseball. Billy...
11 tags
Watch
Machine Gun Preacher movie trailer Machine Gun Preacher is the true story of a former drug dealing biker who undergoes a religious conversion, travels to East Africa where he founds an organization to rescuing kidnapped and orphaned children. As the title of the movie suggests, he's not your typical religious missionary. Directed by Marc Foster (Monster's Ball, Kite Runner,...
9 tags
You don't need to be a fan to appreciate...
I love baseball about as much as I love mowing the grass. It's safe to say that I am not the ideal audience for Moneyball, the more-or-less true story of how Billy Beane, the general manager of the cash-strapped Oakland As's, reinvented his team in the early 2000s in an effort to change the sport to which he had dedicated his life. Lovers of the sport, I'm sure, will experience...
4 tags
'Puncture' trailer
Based on a true story, Puncture stars Chris Evans as a Houston lawyer who also happens to be a drug addict. The movie is about what happens when he takes on a big case that pits his small firm against heavyweight lawyers and big pharmaceutical companies even as he battles his own personal demons. This is Evans' first release since starring in Captain America: The First Avenger. ...
11 tags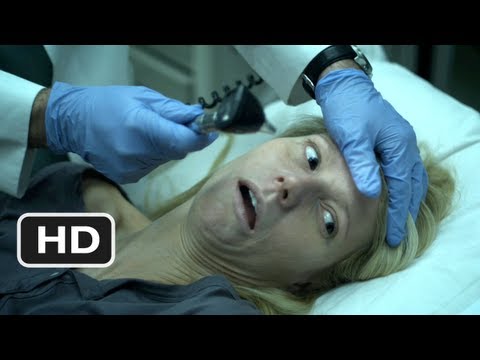 11 tags
Watch
Warrior review: The family that fights together…wins Oscars? When Paddy Conlon comes home one night to his house in a working-class section of Pittsburgh and finds his grownup son, Tommy, waiting on his stoop, he can't contain his shock. They haven't seen each other in 14 years, not since Tommy, then a youngster, fled with his mother to escape his hard-drinking, abusive dad....
5 tags
Movie stills and trailer for Daniel Radcliffe's...
Daniel Radcliffe, wisely, is moving quickly on from Harry Potter, capitalizing on the role to get choice gigs while swiftly taking on other high-profile roles to shake off the boy wizard persona by which the world knows him. Here is the trailer and first movie stills from The Woman in Black, a ghost story that opens in early 2012. Radcliffe plays a young lawyer who travels to a remote village...
6 tags
'World War Z' slated to December 2012 release
Paramount Pictures announced yesterday that World War Z, it's big Brad Pitt movie about the coming zombie apocalypse, will be released Dec. 21, 2012. Paramount is calling the movie a "geo-political thriller," which makes it sound like either they don't want to make any money or else they feel a need to add an air of gravitas to what should be a big honking zombie movie....
6 tags
Watch
The Devil's Double trailer As a general rule, dramatic movies set in the Middle East or that have the slightest bit to do with terrorism have a hard time gaining traction at the American box office.  I haven't seen The Devil's Double yet, but judging from the trailer it is unlike any Mideast-set movie we've yet seen. The trailer reminds me of equal parts Scarface and The...
8 tags
'The Avengers' poster gallery
Is it just me, or does anyone else think the upcoming Avengers movie is likely to be the worst major superhero movie ever? I'm dreading it. And I say this as someone who grew up loving the Marvel comic book. I eagerly awaited every issue of The Avengers and even bought and framed original copies of pages drawn by John Buscema and inked by Tom Palmer. I had letters published in the...
6 tags
'Dark Knight Rises' starts shooting in Pittsburgh...
Shooting on The Dark Knight Rises begins this weekend in Pittsburgh. Pittsburgh is a beautiful city with a spectacular skyline - it's particularly stunning at night when you emerge from the tunnel coming from the direction of the airport - and it will be great to see the movie bring attention to it.  It is a little odd, though, to see the likes of Christopher Nolan and Christian Bale...
9 tags
Watch
The new Amazing Spider-Man teaser trailer When I first heard about the upcoming reboot of Spider-Man, I've got to say that I groaned just a little bit. Sam Raimi's Spider-Man, with Tobey Maguire as Peter Parker/Spider-Man, was a good film. The second one was even better in many ways. The third one was an overloaded, boring monstrosity, but it came out just four years ago. Isn't...
8 tags
Captain America: Isn't he supposed to be a hero to...
In Marvel Comics' The Avengers comic books, Captain America was always an anomaly, and not just because he was a 1940s war hero revived (after being discovered  in a state of suspended animation in The Avengers # 4) to fight again in the modern age. Amid a cast of Superheroes with a capital "S" (Thor with his magic hammer, Iron Man with his repulsor rays and metal suit),...
9 tags
Watch
50/50 trailer Here is the new trailer for 50/50. Based on a true story, the comedy-drama Joseph Gordon-Levitt, Seth Rogen, Anna Kendrick, Bryce Dallas Howard, Anjelica Huston and Philip Baker Hall. Gordon-Levitt is a guy in his 20s who is diagnosed with cancer and decides to use humor in fighting the disease. Rogen, who also serves as a producer (along with his producing partner Evan Goldberg)...
9 tags
The official 'Dark Knight Rises' teaser trailer
Some fake trailers have been popping up on the web, but here is the official teaser trailer for Christopher Nolan's Dark Knight Rises, which opens in the summer of 2012. Plot details for the movie haven't yet been released, but we know that Christian Bale returns as Bruce Wayne / Batman, as does Michael Caine, Gary Oldman and Morgan Freeman. Anne Hatheway costars as Catwoman and Tom...
7 tags
Watch
Winnie the Pooh video feature with Zooey Dechanel I'm not sure what's wrong with me, but I find this short, music video cornily appealing. Or maybe it's appealing corny. It's a promotional video for Winnie the Pooh, a new hand-drawn animated feature that at this very minute is getting trounced at the box office this weekend by you know who. The video features Zooey...
9 tags
Introducing the 'Harry Potter and the Deathly...
The game for Harry Potter and the Deathly Hallows, Part 2, was released July 12. The Deathly Hallows movie is burning up the box office. The third-person action-adventure game that lets fans continue Harry's quest to find and destroy Horcruxes, the magical objects that must be destroyed before Lord Voldemort may be vanquished. You can play as Harry, Hermione, Ron, Ginny, Seamus, Neville,...
4 tags
New 'Dark Knight Rising' poster
I must've been distracted when I glanced yesterday morning at the new poster for Christopher Nolan's The Dark Knight Rises. Nice design, I thought, but nothing I hadn't seen before. Not until I read Anne Thompson's Indiewire blog later in the day where she refers to it as "dark, sinister, architectural, graphic, and very Inception," did I glance at the poster...
5 tags
Realistic and expressive apes to set 'Rise of the...
A young chimp named Caeser bonds with the ailing Charles (John Lithgow). From the look of the trailers and movie stills that Twentieth Century Fox has released so far for the upcoming Rise of the Planet of the Apes, the film - a prequel to the earlier Planet of the Apes movies - relies heavily on technological advances that allow the computer-generated apes to be far more realistic and...
8 tags
Read what critics think of 'Deathly Hallows, Part...
Harry Potter and the Deathly Hallows, Part 2, doesn't open in the United States until Friday, but it premiered in London last Thursday. Here is a look at what critics had to say about it in early reviews. In a review headlined, "How will we survive when Harry's gone," the Daily Mail's Baz Bamigboye shows not a trace of critical distance, squealing like the...
7 tags
On the outs in Hollywood, is Spike Lee getting set...
Spike Lee was grousing just the other day about how he can't get a break - Hollywood studios won't finance his movies. Now comes word that he is in talks to direct a remake of Oldboy, a great 2003 Korean revenge flick directed by Park Chan-Wook. Talk of a U.S. remake has floated around for several years. Will Smith reportedly was interested in starring in it at one point and Steven...
7 tags
Daniel Radcliffe Harry Potter portraits from the...
The Wall Street Journal poked into its archives and came up with this gallery of Harry Potter portraits the newspaper has run over the years. They were created by Randy Glass, a long-time Journal artist, over a period spanning 2001-2007. All are done using the stipple technique that long ago became a Journal. They show Daniel Radcliffe starting from the age of 12.  With the final...
7 tags
Watch
Zookeeper behind-the-scenes video feature Griffin, the kindhearted caretaker at the Franklin Park Zoo, has relationship problems in Zookeeper, a live-action comedy opening this weekend that stars Kevin James and features a passel of talking zoo animals. Griffin thinks that leaving the zoo for a more glamourous job will impress the women he loves. It's up to the zoo animals to teach him...
8 tags
'Harry Potter and the Deathly Hallows, Part 2'...
Warner Bros. has released a series of posters depicting major characters from the Harry Potters. Here is a gallery of action poses. Harry Potter and the Deathly Hallows, Part 2, the final movies in the series, opens on July 15. You can check out the trailer here. The posters continue after the jump.
9 tags
Watch
The Help video feature on Mary J. Blige Mary J. Blige composed and recorded a song for The Help, an upcoming drama based on the bestselling novel by Kathryn Stockett. She's taking an active interest in promoting the movie. She appeared in a video that the studio released earlier in which she discussed the movie. More recently, on July 1, she hosted a special screening of The Help in New...
7 tags
'Horrible Bosses' poster gallery
Horrible Bosses opens July 8 and stars Jason Bateman, Charlie Day, Jason Sudeikis, Jennifer Anniston, Colin Farrell, Kevin Spacey, Donald Sutherland, Julie Bowen and Jamie Foxx. That's an interesting cast, and from the look of these bus stop character posters, it might be fun. I actually laughed once while viewing the trailer. Who can't relate to a story about jerky bosses? The rest...
6 tags
Watch
Captain America: The First Avenger new trailer The new - or, at least, newer - trailer for Captain America: The First Avenger gives a better sense of the movie's flavor. The movie stars Chris Evans as a shrimpy Steve Rogers who keeps getting rejected when he tries to enlist in the armed forces during World War II. Then he volunteers for a secret experimental program that turns him into a...
9 tags
Watch
Mission: Impossible - Ghost Protocol trailer The fourth Mission: Impossible movie, Mission: Impossible - Ghost Protocol, opens Dec. 16, starring Tom Cruise, Jeremy Renner, Simon Pegg, Paula Patton and Josh Holloway. J.J. Abrams produces with Brad Bird taking over as director. Here is the new trailer.
6 tags
Shia LeBeouf on bedding Megan Fox: 'You can see...
Ok, so, Shia LeBeouf plays a bad boy routine that very likely is real, the result of being brought up in a rough neighborhood, having a drug-addicted biker for a dad and learning early to depend on himself. Being honest, true to himself, also is important to him, for whatever reason. So the star of Transformers: Dark of the Moon talks to a reporter from Details magazine about his scraps with the...
6 tags
Frank Miller to take on terrorists
The 10th anniversary of 9-11 will be an occasion of solemn remembrance for most Americans. There certainly will be memorial observances. The airwaves and news websites will be filled with commentary. The President will mark the occasion in some dignified way. Then, three days later, comic book readers will replay the events of 9-11 in the pages of Holy Terror, a graphic novel by Frank Miller, the...
9 tags
Watch
Transformers: Dark of the Moon video feature - Michael Bay and James Cameron discuss 3D James Cameron is one of Hollywood's biggest boosters of 3D technology, and he says that when he heard that Michael Bay was considering shooting a Transformers movie in 3D, Cameron felt compelled to urge him to move forward for it. Here is an on-stage discussion the two filmmakers had in which they...
6 tags
Watch
Transformers: Dark of the Moon flying stunt video feature Michael Bay likes to put his actors and stunt people in the middle of the action. Sure, his films have lots of computer-generated imagery - it's hard not to have cgi when much of your cast is comprised of giant robots and other fantastic creatures and otherworldly goings on. But Bay likes to have things actually blowing up around...
7 tags
On the death of Peter Falk, Gene Colan, Jeff...
We are saddened by news of the passing of Peter Falk and Gene Colan on Thursday. Doubtlessly, you know Peter Falk, from his long run on television as the rumpled detective on Columbo or his wide-ranging film career. Perhaps you're familiar with his great work in John Cassavetes' movies such as Husbands. I would guess that many of you don't know who Gene Colan is. Colan was a...
6 tags
Harry Potter 7-movie DVD gift set
The final installment of the Harry Potter series reaches theaters in less than four weeks, but don't worry, there's still time to catch up on all of the past Harry Potter movies before Deathly Hallows, Part 2, comes out. Warner Bros. makes it easy with the Harry Potter Years 1-7 Part 1 gift set. The nine-disc set includes all seven previously released Harry Potter movies plus a ton...
9 tags
Cronenberg's 'A Dangerous Method' trailer
The trailer for David Cronenberg's new movie, A Dangerous Method, has been released. The movie stars Viggo Mortenson as Sigmund Freud, Michael Fassbender as Carl Jung and Kiera Knightley as … Well, why don't you just take a look at the trailer. The film is at least partly about the birth of psychoanalysis and the relationship between Freud and Jung. It also seems to be...
7 tags
Is Hollywood ready to embrace Mel Gibson again?...
Out-of-control lunatic Mel Gibson was so divisive a figure a year ago that his agent dropped him and the makers of The Hangover Part II rescinded an offer of a cameo part. His toxicity level must be wearing off. Several agencies are sniffing around the tainted actor, according to The Hollywood Reporter which claims, in a story that contains no proof, that "Hollywood is still eager to get...
8 tags
Did Steven Spielberg order Megan Fox fired from...
It remains to be seen how much Megan Fox will be missed from the upcoming Transformers: Dark Side of the Moon (we're guessing not much), but now we've got a better idea why she's gone. Oh, sure, we know we know she left to "pursue other acting opportunities" shortly after she dissed the director, Michael Bay, comparing him to Hitler in a British magazine interview...
6 tags
'Cars 2' behind-the-scenes video feature
Lightning McQueen heads overseas in Cars 2 to compete in a worldwide Grand Prix to determine the world's fastest car. He takes along Mater, his sidekick tow truck, who is mistakened for an American spy and gets mixed up in international espionage. Once again, Owen Wilson provides the voice of Lightning and Larry the Cable Guy plays Mater. Other voices are supplied by Michael Caine, Emily...